Come to Us for Waterproof Floors in Lawrence, KS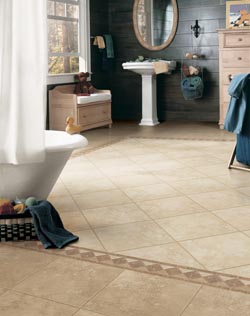 Being locally owned and operated for more than 57 years has allowed The Floor Trader of Lawrence to develop a personal touch with our services. Clients know they can come to us for qualified service from friendly professionals who know how to find materials to meet every need. Our business is filled with the widest selection of waterproof floors in Lawrence, KS, among many others, and you have all of the help you need from our experts in selecting the flooring that is best for you. Whether you require a floor for active kids and pets or for an area high in moisture; we have it here for you.
The Floor Trader of Lawrence is proud of our buying power. We get fantastic deals on waterproof flooring from famous brand name flooring suppliers, and we happily pass those deals on to you. You'll find them on an impressive amount of colors and styles that have the power to raise the resale value of your home as well as make a new design statement. Ask us about affordable waterproof options in the following materials:
Carpet
Luxury Vinyl Tile
Vinyl
Tile
Ceramic Tile
The Joys of Water Resistant Carpet
When you think of a floor that's easy to clean and can handle a few messes and spills, carpet may not have traditionally been what comes to mind. At our business, it now can be. We have floors for every room, even moisture-prone ones, and all of them are designed to withstand the trials of everyday living. You can enjoy walking on this kind if carpet without a worry--it stays beautiful.
The Water Resistant Flooring Installation Process
Our decades of serving the local area have involved establishing contacts with the best installers around. Those who shop with us have access to these professionals by asking for our Preferred Installer List. We have enough contacts here for you to compare bids and get the best deal as well as find the contractor you're most able with. However, it's hard to go wrong because every contractor on this list can install anything we sell the right way every time.
Whether you opt for water resistant vinyl flooring or something softer, proper installation is of the utmost importance. Flooring installation is not a DIY project. Smart floor buyers find that trained installers are well worth the investment.
---
Contact us to start shopping for your new floor. We welcome families from Lawrence, Eudora, Baldwin, and Ottawa, KS, and the nearby neighborhoods.