Vinyl Flooring in Lawrence, KS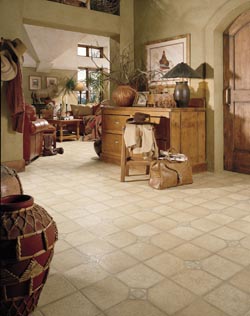 Durable vinyl flooring in Lawrence, KS, is a smart choice for anyone who is looking for the right floor covering for their busy walkways or commercial spaces. Brand-new vinyl tile flooring from our store delivers a level of attractiveness that you may not be expecting from such a strong, easy-to-maintain floor. Come and visit our showroom today to see all that we have to offer.
Are you looking for vinyl plank flooring or think that vinyl sheet flooring is the right fit for your space? No matter what you are searching for, our flooring showroom has it ready for you. We carry only the finest designs from such trusted brands as Armstrong, Mohawk, IVC, and Tarkett to ensure that you always receive the very best.
Delivering Versatility to Your Flooring
The sheer diversity of vinyl flooring has made it one of the most popular choices for customers who are looking to upgrade their homes or businesses. When you visit our showroom, you can find vinyl flooring that fits just about any style you might have in mind. If you want something classical looking, we've got it for you. If you are in the mood for a more contemporary look for your home, vinyl plank flooring has just the right design for your needs.
Just how diverse is this impressive floor covering? Well, you can adjust the color, appearance, and texture to fit just about any design idea you have. Even if you are looking for a hardwood flooring or stone option, vinyl flooring can recreate it for you while providing all of the benefits you've come to expect from vinyl.
Professional Vinyl Flooring Installations
How long your vinyl lasts and how good it looks all depends on how it is installed. Even the best vinyl tile flooring can end up looking bad if it has been improperly installed by an amateur. The solution to this problem is to only work with trained professionals when it comes to your vinyl flooring installation.
The team at our flooring showroom has a rich history of performing perfect installations for homeowners and property owners just like you. We have a deep understanding of the types of floor coverings we sell, which means we can install everything efficiently and effectively for you.
---
Contact us when you are interested in having vinyl flooring installed into your home or business. Our vinyl flooring showroom is perfect for customers located throughout the communities of Lawrence, Colorado Springs, Monument, Black Forest, and Manitou Springs, Kansas, as well as the surrounding areas.