Your Source for Vinyl Flooring in Lawrence, KS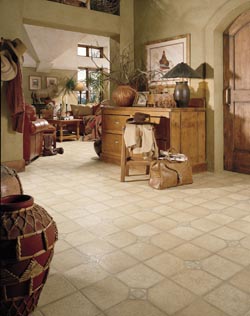 Durable vinyl flooring in Lawrence, KS, is a smart choice for anyone who is looking for the right floor covering for their busy walkways or commercial spaces. Brand-new vinyl tile flooring from Lawrence Floor Trader delivers a level of beauty that you may not be expecting from such a strong, easy-to-maintain floor. Come and visit our flooring showroom today to see all that we have to offer.
Are you looking for vinyl sheet or plank flooring that will revitalize the look and feel of your interior? No matter what you are searching for, our flooring showroom has it ready for you. We carry only the finest designs from such trusted brands as Armstrong, Mohawk, IVC, and Tarkett to ensure that you always receive the very best. You'll even find vinyl flooring that looks like high-end flooring options, such as hardwood or stone.
It all begins with our high-tech, low overhead approach to flooring. We don't depend on flashy displays or expensive marketing ploys to sell our product. Instead, we let our selection speak for itself. We offer wholesale vinyl floors from a variety of manufacturers while passing the savings along to you. At our flooring center, what you are viewing is what you will buy. In turn, you can expect more, while also saving more money. We are your source for vinyl planks, tiles, and sheet flooring.
Vinyl Flooring Adds Versatility to your Interior Design
The multipurpose nature of vinyl flooring has made it one of the most popular choices for customers who are looking to upgrade their homes or places of business. When you visit our showroom, you will find vinyl flooring that fits just about any style you might have in mind. From classical aesthetics to contemporary chic, we have something in store for you. If you are in the mood for a more contemporary look for your home, vinyl plank flooring has just the right design for your needs.
Just how useful and wide-ranging is this impressive floor covering? Well, you can adjust the color, appearance, and texture to fit just about any design idea you have. Even if you are looking for a hardwood flooring or stone option, vinyl flooring can recreate it for you while providing all of the benefits you've come to expect from vinyl.
Speaking of benefits, there are many! Vinyl sheet flooring, as well as tile and plank, have been trusted mainstays in homes and businesses. Property owners turn to this material for their remodeling and re-flooring projects because
It Is Tough: Vinyl is comprised of composite materials. As a result, it has a non-porous surface that is as durable as it is beautiful. Stains, spills, and dirt have a hard time making their mark on vinyl flooring.
It Is Easy to Maintain: With durability comes ease of maintenance. You will save time and energy after re-flooring your interior with vinyl. In most cases, you can keep your investment looking new with a mild detergent and a cloth to wipe away spills.
It Is Family Friendly: Homeowners will love how vinyl can keep up with their active families. Vinyl resists bumps, scratches, and impacts with ease. It can withstand frequent foot traffic--and the occasional accident from the family dog.
Professional Assistance You Can Count On
With so many flooring options at one location, it can be difficult deciding which floor covering is the best one for you. Not to worry--we're here to help. As a complete source for vinyl plank flooring and more, our showroom staff has the knowledge you need to simplify your remodeling project.
You are welcome to arrange a consultation, and a member of our team will discuss the details of your project with you. We'll get to know your goals and what you want out of your ideal flooring. Then, we will help narrow your options and find the products that will meet your needs. We stay on top of the latest trends in remodeling and flooring, so you can choose what's right for your home or business.
Vinyl Flooring Installations by the Preferred Installer Network
How long your vinyl lasts and how good it looks all depends on how it is installed. Even the best vinyl tile, plank, or sheet flooring can end up looking bad if it has been improperly installed by an amateur. The solution to this problem is to only work with trained professionals when it comes to your vinyl flooring installation.
When it's time to put your project into action, turn to us as your resource. Our showroom maintains a Preferred Installer Network. We have connections with trained, experienced, and certified contractors who will complete your installation for you. We'll help you find an installation team that is near you, ensuring you can enjoy your new flooring as quickly as possible.
---
Contact us to learn more about our selection of vinyl flooring. We proudly serve customers throughout Lawrence, KS, including Colorado Springs, Monument, Black Forest, Manitou Springs, and the surrounding areas.