Tile Flooring in Lawrence, KS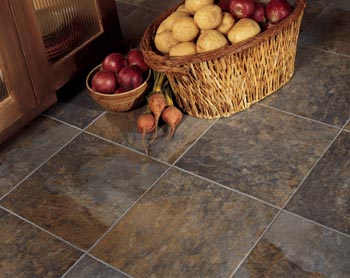 Ranging from rich and classic to sleek and modern, tile flooring in Lawrence, KS, makes for a wonderful addition to your home or business. There are ceramic tile flooring options that are sure to line up with your sense of style when you come and shop at our flooring showroom. We carry only the best designs from the brands you trust, including Dal-Tile, Emser, Interceramic, and Marazzi. This ensures that you won't be disappointed with your tile selection.
There are many different options available to individuals looking for a tile floor installation for their home. At our showroom, you will find ceramic tile, porcelain tile, and even slate tile that can deliver a natural look to your home. Work with one of our flooring specialists today to narrow down your search and get the type of flooring that works best for your space.
Easy to Maintain & Always Stylish
Why is tile flooring so popular with homeowners? There are almost too many answers to list. This fantastic floor covering features a huge selection of style options that can match just about every design preference you might have. This includes a number of texture and color options that can be customized to fit your precise needs. The final outcome of such an impressive style is that your property value is going to increase while the aesthetic appearance of your home increases at the same time.
Tile flooring isn't just long-lasting and durable for busy households; it is also easy to clean. That means you won't have huge maintenance costs in the future, since your floor will resist spills, dirt, grime, allergens, and water. With just a little care, including regular sweeping and occasional mopping, you are able to extend the life of your tile floors for a long time to come. Explore our wood-look tile for a hardwood alternative that is always waterproof!
Professional Tile Flooring Installation
Ensure that your tile flooring is properly installed by working with our tile flooring installation team. A professional installation is an absolute must if you are looking to take advantage of all of the benefits that come with upgrading your floor to tile. An amateur's work can end up costing you more in the long run, due to errors that may not have been caught right away.
With the work of our efficient and effective installation team, you can rest easy knowing that everything is performed the right way from beginning to end. Your new floor will not only look great, but it will perform just as you expected it to perform when you have our tile floor installation team assist you.
---
Contact us when you are interested in enhancing the look of your property with our tile flooring options. Our team provides amazing tile flooring to customers located throughout the communities of Lawrence, Eudora, Baldwin, and Ottawa, KS, as well as the surrounding areas.