Luxury Vinyl Flooring in Lawrence, KS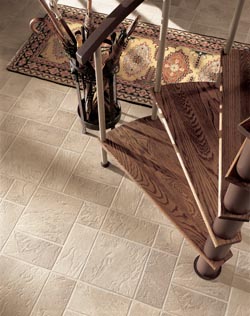 There is a new sophisticated flooring option for homeowners–luxury vinyl flooring in Lawrence, KS. Luxury vinyl tile and plank come in an exhaustive range of colors, styles, and patterns that help you create that perfect style for your home or business. Are you looking to create a bold statement, or something more traditional? Thanks to our luxury vinyl options, you can upgrade any room in your home or office to fit the unique look you want for the space.
Luxury vinyl flooring has only continued to improve over time. Today's luxury vinyl plank and tile can recreate gorgeous interiors designed to fit any ideas you have for your space. No matter what type of décor you have in your home, our flooring showroom has the luxury vinyl flooring that can enhance it. We carry many types of stunning flooring from the following brands:
Konecto
Metroflor
Beaulieu
Armstrong
Tarkett
Resilient Flooring with Amazing Aesthetics
Do you want to protect those high-traffic areas in your space, but still keep them looking just as attractive as the rest of your home or office? Then you need luxury vinyl flooring from our flooring outlet. This impressive floor covering stands up to regular wear and tear to ensure you maintain a fresh, attractive look for your space for many years to come. If you have children or pets, then you know you need a floor that can put up with just about anything. Our luxury vinyl tile and plank does just that without any aesthetic drawbacks.
If you think maintaining a beautiful floor is going to be a hassle, then don't worry; it isn't when you choose our luxury vinyl flooring. Resistant to moisture and dirt, all you need to do to keep your floor nice and clean is just to brush over the mess with a mop or a broom. This is the perfect option if you want a lustrous, beautiful floor that isn't a headache to keep properly maintained.
Do you love the elegance, sophistication, and warmth of hardwood floors, but don't relish the price, maintenance needs, or susceptibility to water damage, luxury vinyl plank flooring is a great option for your home. Vinyl plank flooring offers all of the stylistic benefits of hardwood, but costs much less, is easier to install, easier to maintain, and stands up to moisture and water damage perfectly. Whether you're renovating your dining area with sophisticated wood-look vinyl flooring or you want to update your entire home with resilient vinyl plank flooring, we have the brands and styles you're looking for.
If you prefer the look of stone or ceramic, luxury vinyl tile is the perfect material for you. Because vinyl is an incredibly lightweight and resilient flooring material, you can use it on the upper floors of your home without having to be concerned about whether the weight will be supported like you do with natural stone, ceramic, or porcelain tiles. With vinyl tile, you can also create unique and beautiful mosaics by arranging different colors or patterns in a room. Reach out to our skilled and dedicated sales and design staff to discuss your flooring needs and design ideas with a professional.
Upgrade Your Property's Real Estate Value
One easy way to boost the value of your home or business prior to selling it is to upgrade the flooring throughout the property. Whether you switch out the old, dingy carpets in the bedrooms for elegant luxury vinyl plank or you upgrade the style of your kitchen with luxury vinyl tile, you're sure to enhance both the style and value of your home by adding luxury vinyl flooring in any room. Even if you're selling your home several years down the line, this is a great investment to make because luxury vinyl will look and function great for many long years.
Very few people enjoy installing flooring, so why not skip the hassle and leave it to the professionals? Our network of preferred installers provide comprehensive luxury vinyl flooring installation so you don't have to spend several days struggling with tools, adhesives, and the flooring itself only to come to the realization that you've made a mistake and need a professional to provide damage control. When you leave installation to a Floor Trader Preferred Installer, you can have the peace of mind knowing that everything is handled safely, correctly, and evenly so you get perfect results the first time. Our preferred installers have all of the equipment, knowledge, and skills necessary to efficiently and effectively install your brand-new floor.
---
Contact us to learn more about the durability of luxury vinyl flooring. We serve customers located throughout the communities of Lawrence, Eudora, Baldwin, and Ottawa, KS, as well as the surrounding areas.