Laminate Flooring in Lawrence, KS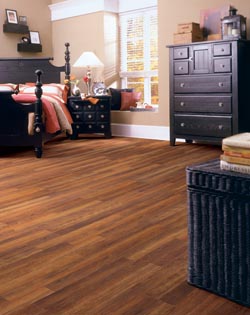 Are you interested in a stylish floor for your home that it is capable of putting up with any wear and tear? Then you are looking for laminate flooring in Lawrence, KS. This wonderful flooring option allows you to explore your creative side while you come up with the perfect designs for each and every room in your home or office.
As the ideal choice for any room or area in your property, laminate tile flooring is attractive, resilient, and versatile. If you want the look of stone, hardwood, or ceramic, but with the added durability of laminate flooring, our showroom can deliver it to you thanks to our huge collection of trusted brands, including designs from Quick-STEP, Shaw, Armstrong, and Tarkett.
The Look You Want for Decades to Come
The durability of laminate flooring makes it a great choice for active households or commercial buildings. Thanks to its manufacturing process, laminate tile flooring is very easy to maintain and can resist stains and scratches. With regular sweeping and occasional mopping, your brand-new laminate floors are sure to look spectacular for many years to come.
Durability does not mean that you are going to lose out on having an attractive floor. Our laminate flooring delivers the look you want each and every time. Whether you want something chic and modern, are thinking about an authentic-looking hardwood floor, or you want a classic look for your kitchen, all of these design options are doable when you choose laminate flooring for your home or business.
Professional Laminate Flooring Installation
Your new floor only delivers the look and durability you want if it is properly installed. That is why our showroom extends our professional laminate flooring installation services to you. Our specialists have all of the training and equipment necessary to properly install your brand new laminate tile flooring the right way the very first time.
With the efficient and effective installation services from our team, you can rest easy knowing that everything will look exactly as you envisioned it when you picked out your flooring in our showroom. Furthermore, we work around your schedule to minimize any inconvenience you might have while we install your new floors.
---
Contact us to learn more about the benefits of laminate flooring for your home or business. Our laminate flooring professionals work hard for customers located throughout the communities of Lawrence, Eudora, Baldwin, and Ottawa, KS, as well as the surrounding areas.