Your First Choice for Flooring in Lawrence, KS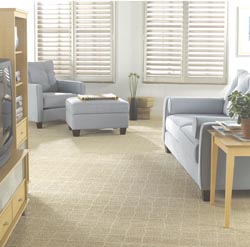 Purchasing floors may seem like a difficult decision. With so many choices available, finding the right floor for a specific room in your home can prove challenging. That's why The Floor Trader of Lawrence is such an excellent choice. We simplify the shopping process for you by guiding you through the wealth of options on offer in our extensive showroom. Simply put, we're the team to turn to when it comes to buying flooring in Lawrence, KS.
Our Purchasing Experience
The first thing you'll notice when you shop with us is our friendly and knowledgeable team. You'll be greeted with a smile and we'll guide you through our extensive selection to find the perfect floor for your particular situation. We know how stressful the typical floor shopping experience can be and we make sure that you have an easy and enjoyable time with us from start to finish.
From the moment you enter our flooring store until the time you decide on your purchase, we will treat you with total respect and courtesy. You can expect nothing less than from us on every visit because we demand nothing less from ourselves. It's just the way we do things here at The Floor Trader of Lawrence, and that's not going to change.
The Importance of Maintaining Your Floors
Purchasing a new floor is a major investment. You want to ensure that your investment pays dividends for years to come, so it's important to take great care of your home flooring. Fortunately, our highly knowledgeable staff is here to provide you with the advice you need to do just that.
No two types of floors are the same. Different care techniques must be utilized to ensure that your floors last for years to come. We'll provide you with detailed descriptions of the methods you need to use to care for your floors. Our helpful advice will save you time and money in the future.
Superior Installation Services
In addition to offering an outstanding selection and helpful advice about your floors, our company also provides comprehensive flooring installation services. Trust our professionals to complete all installation work correctly the first time, so you don't have to worry about the details. We would be honored to serve as your local floor installers. Let us make the installation process as simple and easy as possible for you.
---
Contact us today to discuss your flooring needs. We are proud to serve our wonderful customers inLawrence, Eudora, Baldwin, and Ottawa, KS, and the surrounding areas.