Hardwood Flooring in Lawrence, KS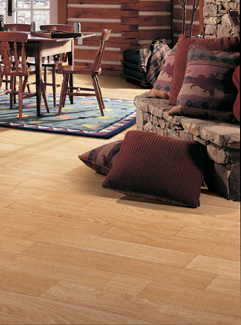 Hardwood flooring in Lawrence, KS has a rich history as the floor covering of choice for most local homeowners. For many years, solid hardwood flooring has been used to give everything from regular homes to stunning palaces gorgeous flooring that is built to stand the test of time. With a brand-new hardwood floor from our team, you can transform the look and feel of your property into something absolutely elegant. The rich look of your new floor will only improve over time as it gracefully ages and expands to give you a one-of-a-kind style that is all your own. Once you find the right hardwood floor for your living space, we'll be glad to provide you with a connection to one of our preferred installers, who will install your new floor in an efficient and effective manner. With proper care and maintenance, your amazing new hardwood floor can last a lifetime.

Your home is one of the biggest investments in your life. As the place where you rest your head, interact with your family and create memories you will always cherish, it's essential for you to make the right long-term choices for the flooring you choose to adorn your living space. Making the best possible investment in your home ensures that its financial and emotional value will continue to grow in a positive direction. With hardwood flooring from our store, you can accomplish such a goal with ease. When you're looking for a healthy flooring option for your property, hardwood floors are a wise choice. With coverings that are organic in origin, hardwood floors tend to attract less dust, including bothersome allergens and molds. If you're interested in learning more about the different hardwood flooring options available to you here at our flooring showroom, then be sure to speak to our specialist right away to discuss the perfect fit for your space.
Your Source for Products from the Top Hardwood Flooring Brands
Here at our flooring store, we look forward to helping you find your perfect floor by providing you with the finest options from some of the top hardwood flooring brands on the market today, such as Mohawk, Armstrong, and US Floors. From hickory and oak to birch and maple, we carry a wide variety of sleek and hand-scraped hardwood floors in plank and tongue and groove options. Our large selection of elegant wood floors gives you the unique ability to curate a fully customized décor that is tailored to the exact specifications of your personal preferences. By purchasing hardwood floors in massive quantities, we are able to pass on the savings to you at guaranteed low prices from some of the most reputable brand-name suppliers in the industry. With access to high-quality hardwood flooring at an affordable cost, you'll be able to renovate your home without stretching the limits of your financial goals. Our solid hardwood flooring provides a reliable foundation for a long-term investment with an unrivaled aesthetic that instantly adds a sense of class and refinement to your residential space. A simple refinish—even years later—can restore that showroom sheen at a fair price. That way, you'll be able to keep your flooring while still enjoying the look and appeal of a floor that has just been installed.
Find the Perfect Floor That Fits Your Home
For homeowners who are interested in the timeless appeal of solid hardwood flooring but don't necessarily have the budget for such an investment, engineered hardwood floors provide a great alternative. With a style that is carefully manufactured to resemble the classic appearance of natural hardwood, floors that are made of engineered hardwood offer the look of luxury for less. Once you've decided that you're ready to upgrade the décor of your living space without having to break the bank, our extensive selection of engineered hardwood floors is a great place to begin. Your interior remodeling project is a special opportunity to leave a lasting mark on your home, so be sure to make the right choice for the future of your flooring with a visit to our showroom.

Engineered hardwood floors are made through a process that bonds several layers of wood together with heat and pressure, they're not quite as prone to changes in temperature and humidity. This special feature makes them a great choice for areas that are not normally considered as places where hardwood would be used, such as bathrooms, kitchens, or basements. With a visit to our showroom, you'll be able to compare the differences between the floors that we offer before you have your new floor installed in your home. All of our floors are backed by the fairest and most affordable rates possible, and we make it a point to ensure that our flooring prices are sensible so your remodeling project will be a cost-effective one from start to finish. Regardless of the type of flooring you choose, you can count on our showroom as your destination for the floors you need at prices you'll love.
---
Contact us to learn more about our selection of hardwood flooring. We serve clients in Lawrence, Colorado Springs, Monument, Black Forest, and Manitou Springs, Kansas, as well as the surrounding areas.