Carpet Stores in Lawrence, KS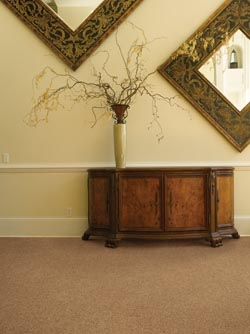 Choosing the right residential or commercial carpet for your home can give your property a major boost in the right direction. By coming to one of our carpet stores in Lawrence, KS, you can work with a skilled, trained professional who is able to help you browse our impressive selection of different styles and brands, so you can find that perfect match for your home or office space.
What does your brand-new carpet bring to the table? Carpet and area rugs combine comfort with aesthetics to give your rooms a cozy, welcoming look, while ensuring that you can create the perfect environment for yourself, visitors, or employees. As a decorative and functional element, the textures of your carpet can create new design dimensions to any type of room, no matter what the current décor looks like.
Finding the Right Brand for Performance
With so many different types of carpets available to you, it is important to work with our specialist to ensure that you pick out something that meets your performance needs just as much as it meets your aesthetic desires. Carpets in homes can be designed for extra comfort, but commercial carpet needs to be designed to handle extra wear and tear.
Just let us know what you want in a brand-new carpet and where the carpet is going to be installed and we can help you narrow down your search to the most fitting brands and designs for your needs. We carry only the best floor coverings from such brands as Beaulieu, Mohawk, and Shaw, and look forward to helping you create the perfect space using our selection.
Professional Carpet Installation Matters
To receive all of the aesthetic, comfort, safety, and insulation benefits that come with having a luxury carpet floor installed into your home or office, you need to work with a professional installer. Our carpet installation team has the specialized skills and equipment necessary to ensure that every section of floor in your rooms is covered efficiently and effectively.
The whole installation process is simplified when you work with the professionals at our carpet store. We work around your schedule to ensure that there is minimal inconvenience to your life, as we provide you with the floor coverings you have always wanted for your home or business. Our team strives to complete each and every job with the speed and efficiency you expect from a professional team, while still ensuring that everything meets our exacting high standards.
---
Contact us when you are looking to upgrade your property with warm and welcoming carpet. Our residential and commercial carpet specialists are ready to assist individuals located throughout the communities of Lawrence, Colorado Springs, Monument, Black Forest, and Manitou Springs, Kansas, as well as the surrounding areas.